BOOK ARTISTS
Jenna Adams
Alicia Bailey
Sherry Barber
Linda Cunningham
Carol Erickson
Maryanne Grebenstein
Karen Hanmer
Ed Hutchins
Jan Kellett
Caroyln Leigh
Susan Lowdermilk
Emily Marks
Lise Melhorn-Boe
Patrice Miller
The Movable Book Society
Johanne Renbeck
Laura Russell
Carolyn Shattuck
Fruma Shrensel
C. David Thomas
Strike Three Press
Jill Timm
Fran Watson
Joelle Webber
Beverly Wilson
Ziggurat Press


Medieval Bookbinding Structure Models
Girdle book, a medieval binding structure featuring a long extension of leather, which could be attached to a traveler's belt. $750.
Medieval cut-away binding model, lacing and covering appear in process to reveal how the binding is constructed. $500.
Both models include a twelve-page, illustrated booklet with bibliography outlining the construction of medieval bindings in general and the girdle book in particular. Text block size for both models is 4.75" x 3.25" x 1.25".
Both models display features typical of medieval bindings:
• Text block sewn on double supports
• Sewn headbands
• Spine linings extend beyond the text block and attach to the inside of the boards
• Text block laced onto shaped wooden boards and cords pegged in
The girdle book model also includes:
• Full covering in vividly-colored pig suede, deerskin or velvet also available
• Strap and pin closure
• Corner bosses
• Vellum foredge markers
• Turk's head knot to finish leather extension at the binding's tail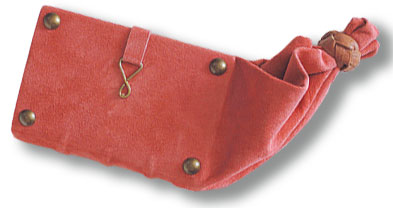 Karen Hanmer
karen@karenhanmer.com
www.karenhanmer.com